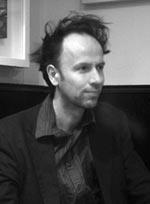 Wednesday 14th December at 6.00pm
You are invited to the Dublin launch of
VIII Stepping Poems & Other Pieces (Miami University Press / New Writers'
Press)
by Fergal Gaynor
with readings, performance and music by the author, Trevor Joyce, Marja
Gaynor and friends.
6pm, the Irish Writers' Centre (19 Parnell Square, next to The Garden of
Remembrance, above Chapter One restaurant).
Free entry. All welcome.
. . . But there is that second strand, the fitful, halting strand of Irish
modernism, a bare technique, picked up by Beckett and carried through by
writers such the vastly underestimated Aidan Higgins, the minimalist poet,
Trevor Joyce, or the young neo-Classicist poet, Fergal Gaynor. Joyce would
have recognised these contemporary writers instantly, knowing that their
modernist efforts to escape from the story-teller material of Ireland should
lead to new forms of narrative; the digital poem or the pen as camera.